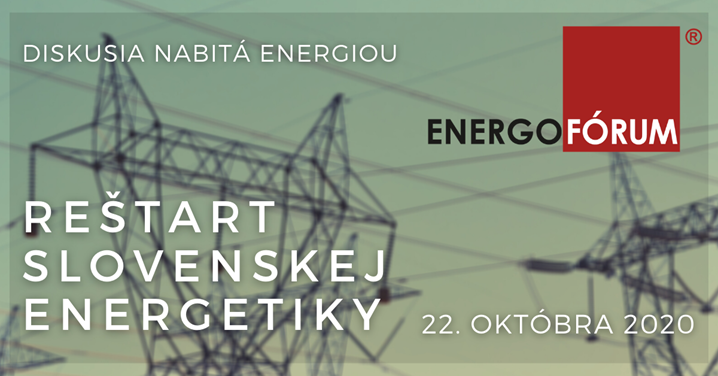 INVITATION FOR DISCUSSION ENERGOFÓRUM®: RESTART OF SLOVAK ENERGETICS
The ENERGOFÓRUM® conference team is organizing a special discussion with top experts, which will take place on Thursday, October 22, 2020, starting at 2:00 p.m. We decided to broadcast live stream in HD quality live and free for everyone who is interested in the future of energetics in the Slovakia. In this way too, we would like to thank you for fifteen years of the ENERGOFORUM® friendly conference.
WHERE CAN YOU WATCH LIVE STREAM?
An energetic discussion can fill you with energy from the comfort of your home! The live broadcast will be available directly on the ENERGOFÓRUM® conference website as well as on the partner portal of ENERGOKLUB® platform. Who prefers social networks, live broadcast of the debate will be reflected through the official Facebook profile ENERGOFÓRUM®.
MODERATOR
The discussion will be led by renowned expert Blahoslav Němeček from Ernst & Young, Ltd.
DISKUTUJÚCI:
Andrej Juris, Chairman of the Office for the Regulation of Network Industries
Karol Galek, State Secretary of the Ministry of Economy of the Slovak Republic
Rastislav Hanulák, lawyer of Capitol Legal Group, law firm Ltd.
Henrich Krejčí, Member of the Board of Directors of the Slovak Gas Industry (Slovenský plynárenský priemysel, a.s.)
Michal Cabala, Chairman of the Board of Directors of  OKTE, a.s.
Martin Ondko, Chairman of the Board of Directors and CEO of MAGNA ENERGIA a.s.
WHAT THE TOPICS WILL BE DISCUSSED:
Reconstruction of Regulatory Office for Network Industries (URSO). Energy transition and the role of the new management of the Office.
Transposition of EU winter package directives – a chance of progress or a mandatory minimum.
Energy poverty. How and where to move a long-term overlooked topic.
Settlement of RES and HE ECHP support in a new way - experience, consequences and solutions.
Restarting the auctions of RES. Sustainability of support costs vs. perspective of reducing them.
Change in the purchase of green energy. Experience of the SGI (SPP) and strategy for the future.
Price deregulation of energy supply for households and small businesses - time has come?
Viewers will be able to participate in the discussion by asking questions via the SLI.DO platform.
Organizer: sféra, a.s.